London Law firm pays NQ Solicitors £100k
One of the US law firms in London has now decided to offer NQ solicitors £100k salaries, which is about £22k more than Clifford Chance NQ solicitors get, and about £75k more than most NQ solicitors get on the high street..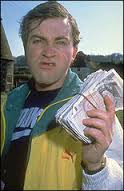 The RollonFriday.com website is a very good source of all information and data about the larger law firms in the UK, including an indication of opinions of salary levels on their forums. Apparently NQ solicitors and associates at the top UK law firms in London look enviously across at their counterparts in the US firms in London because salaries can be around 25% higher at the US firms. Naturally no thought is given to the fact that these solicitors are being paid over 3-4 times as much as their counterparts in smaller practices!
We occasionally get solicitors from Clifford Chance and other large practices wanting to return to the real world and go home at 5.30pm. They are astonished when they hear how much high street firms actually pay their staff and tend not to proceed with applications.. However they are similarly amazed at the notion of leaving the office before 7pm each day, which seems to frighten some of them!
Discontent with earning huge salaries is usually caused by the billable hours required. According to the RollonFriday website, Clifford Chance expect their solicitors to bill 1800 hours a year, which according to my calculator is 37.5 hours per week billable time, or 7.5 hours per day. 50-60 hours work per week would be required as a minimum to achieve this (Yale Law School have a very good example which can be found here).
In fact what solicitors fail to realise is that the annual billable hours total required at city law firms are so huge that the salary levels are not that different to the high street. I do wonder at times whether working in a job for 60-70 hours a week shortens your lifespan, but that is a discussion for another day…
Example:
Paul McCartney works in a high street conveyancing firm. He works a rigid 7.5 hours per day – 9am to 5.30pm including a 1 hour lunch break when the firm closes. His salary is £35,000. Assuming 4 weeks annual leave, his take home monthly rate of pay (net of tax) will be £2,240.60. His net hourly rate is £15.
Ringo Starr works in a large city practice. His salary is £98,500 at 3 years PQE. He works 12 hour days – from 8am to 8pm together with 2 x 8 hour Saturdays each month. Lunch breaks are non-existent. Assuming 4 weeks annual leave and bank holidays, his take home monthly rate of pay (net of tax) will be £5,371.31. His net hourly rate is £21.
So the difference in reality, when you look at the hours worked, is somewhat negligble compared with the huge discrepancy in salary. When you factor in the fact that Ringo is probably taking twice as long to get to work as Paul (he will have to commute into central London every day and Paul probably works in the suburbs) the £98,500 really doesn't sound as good!
Jonathan Fagan is MD of Ten-Percent Legal Recruitment. He has a load of abbreviations after his name – Solicitor (non-practising), MIRP, Cert RP, LLB, LLM etc.. etc..